Growing Chinese tourist numbers give new impetus to industry growth, job creation
During the past 30 years tourism has been one of the fastest growing industries in Africa, so much so that it has become an important driver of economic growth and a key strategy for regional cooperation among African economies.
Though Africa has been blessed with abundant tourism resources, the industry was previously largely confined to North Africa. The real impetus for the industry came during the 1970s when sub-Saharan African destinations started appearing in tourist itineraries. Since then the industry has gone from strength to strength and Africa is a must-see destination for most global travelers.
Looking at tourist footfalls over the years, it is not surprising to see that Chinese tourists to Africa have not only played a big role in the development of tourism, but also risen significantly in numbers in the past few years. As far as Chinese tourists are concerned, the biggest growth has been spurred by the deep pockets of the rising middle-class population.
According to industry estimates, there are 17 African destinations that are quite popular with Chinese tourists. The most sought-after African destinations are the tourist attractions in Egypt, Kenya and South Africa. However, some Chinese travel agencies have recently added Zimbabwe, Mauritius, Seychelles and Tunisia, with most of the attractions catering to the tastes of middle-class tourists.
There are four reasons as to why more Chinese tourists are now flocking to Africa.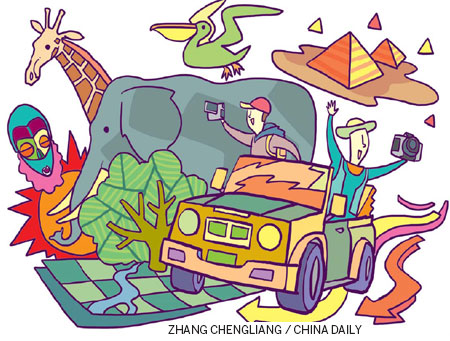 First, the continent's natural landscape, warm people, long history and rich and unique flora and fauna have captivated many Chinese tourists. For most of these tourists, Africa is a captivating destination that has no parallels in Europe or the US. Undoubtedly there is a growing desire among Chinese tourists to build closer relations with their African brethren.
With the continuous improvement of education levels, especially the growing popularity of English education, middle-class tourists from China, especially those from the second and third-tier cities, are increasingly opting for "do-it-yourself" itineraries in Africa. These tourists do not want to be confined by the rigid package tours of travel agencies, and instead want to explore the vast continent's forests, snow-capped mountains, volcanoes, rivers, swamps and deserts in their own way and interact with the African people.
The annual Forum on China-Africa Cooperation and other major meetings also promote and motivate more tourist flows to Africa.
The second major reason for growing tourist numbers is the good connectivity and easy timing of travel to most African destinations.
With the deepening of China-Africa relations and the development of economic and trade ties, most of the major African carriers have started non-stop flights to Hong Kong and the Chinese mainland. It takes only 10 hours from Mauritius to reach Hong Kong, similar to a non-stop flight from Beijing to London. In addition, destinations like Johannesburg, Nairobi, Cairo and Addis Ababa are connected through daily flights from Hong Kong, Beijing and Guangzhou. In other words, in 12 to 14 hours a Chinese tourist can reach Africa.
The extra emphasis that most African countries are putting on tourism development is the third major factor for more tourist flows. In addition to the multiple-entry visas for Chinese tourists launched a year ago, many African countries now have reduced their visa processing period to between five and seven days. This makes travel to African countries easier and faster.
Compared with traditional European and US visa procedures, Chinese travelers only need to submit some basic information to African embassies. African countries have no demanding requirements over proof of property ownership, financial guarantees and personal privacy.
African countries such as Benin and Mauritius have even accorded a visa-free status to Chinese tourists. Tourism bureaus in many African countries have developed publicity strategies tailored specially to the Chinese market.
Some African countries use their celebrities and new media to attract tourists. Others like Egypt, Kenya and South Africa have increased their advertising exposure on China Central Television and several other provincial TV stations to draw more Chinese tourists.
Growing health awareness is the fourth and most compelling reason that is helping grow tourism in Africa. Most middle-class tourists from China are those who live in the cities and hence do not get much chance for outdoor activities like mountaineering, parachuting, trekking in the tropical rainforest, desert adventures and cross-country competitions. Africa has all of these and many more other attractions.
Due to natural and historical reasons, many countries in Africa have gone through long periods of underdevelopment. The financial, material and technical conditions are often weak and the transportation system is not perfect.
Despite the rich tourism resources, the lack of sufficient human, material and financial resources has often hindered large-scale systematic development. It is difficult to carry out effective marketing for existing tourism resources, resulting in a considerable number of high-quality tourism resources not living up to their names.
Africa has not yet formed a complete transportation network. Though its international ocean shipping network is relatively comprehensive, it is still limited mostly to the eastern coastal regions that are closer to the Eurasian continent.
In recent years, the aviation industry in Africa has been growing rapidly, but the number of connections between African countries and other countries is still limited. Airports with large passenger aircraft are mostly concentrated in a small number of relatively developed countries and cities.
As far as road traffic is concerned, most of the intra-African traffic lines extend from the coastal ports, but some of these highway systems are out of date and easily jammed, thereby posing challenges to travel.
Tourism plays an irreplaceable role in promoting employment, reducing poverty and improving foreign exchange earnings. Due to the lack of funds and the lack of development in the service economy, scenic construction, tourism product development, tourism facilities and service standards show some deficiencies, and have more room for improvement in terms of food, accommodation, transportation, shopping and entertainment.
Africa is also home to thousands of languages (of course, the main languages are French, English, Portuguese and Arabic). Multilingual tour guides are rare in Africa, with tour guides who can speak Chinese even harder to find.
Natural disasters and occasional armed conflicts in Africa, coupled with its lack of financial and human resources, also pose a threat to many of the world heritage-listed sites in Africa. Although the number of world heritage sites in Africa accounts for 13 percent of the global total, in terms of endangered World Heritage sites, Africa accounts for more than 50 percent.
Overall, with its unique tradition and culture, the continent is bound to attract more Chinese tourists.
Zhang Qizuo is professor of economics and vice-president of Chengdu University, who specializes in China-Africa trade and investment.