The Blaine County of Idaho Recorder's Office confirmed that Nnamdi Asomugha, Nigerian American NFL star of San Francisco 49ers married  movie star Kerry Washington.  San Francisco 49ers cornerback Nnamdi Asomugha and Kerry Washington has been dating for over a year.
Kerry Washington is a familiar face in Hollywood movies, including the box office movie Django Unchained where she starred as Jamie Foxx's enslaved wife.  But she is most known for his television show 'Scandal.'
With Parents Dr and Dr. Asomugha
Nnamdi Asomugha was born in Lafayette, Louisiana, to Nigerian Igbo parents and he is a frequent visitor to Nigeria where he is known for his charity endeavor and humanitarian activities.  But his charity is also active in American scene especially in the less privilege communities where he inspired youths to excel in education with hard work and commitment.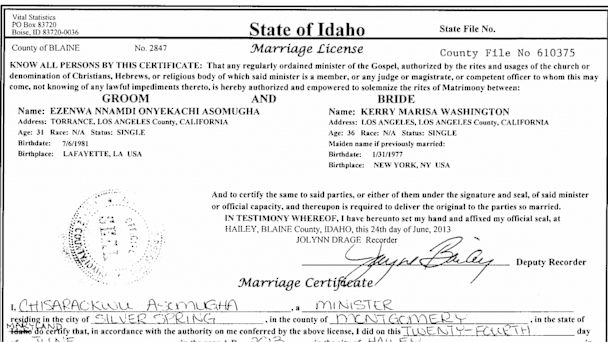 (Photo Credit: Blaine County, Idaho Recorder's Office)
"Asomugha attended the University of California, Berkeley, where he played for the California Golden Bears football team. He finished his career with 187 tackles, three sacks, 19 stops for losses, eight interceptions, three touchdowns, 15 pass deflections, two fumble recoveries and a forced fumble in 41 games as a free safety. In addition to football, Nnamdi also proved highly intelligent in the classroom. Asomugha stayed all four years at University of California, Berkeley, and graduated with a Bachelor of Arts Degree in corporate finance. Asomugha often cites the important role both his parents education played in his life, citing their doctoral degrees in engineering and pharmacy as motivation for his own studies." (Wikipedia).
Both couple Washington 36 and Asomugha 31 has philanthropic dispositions and they are actively involved with the William J. Clinton Foundation.