AFricaNews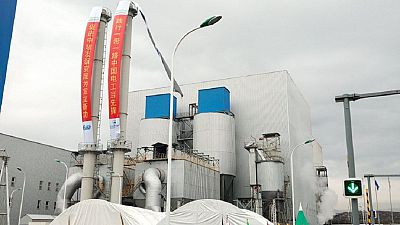 Ethiopia is home to the continent's first waste-to-energy facility after a launch of the Reppie project over the weekend. President Mulatu Teshome and other high level government officials were present for the event. The facility is built on the Koshe landfill site located on the outskirts of the capital Addis Ababa. It was launched in 2013 as a municipal solid waste incarceration plant.



The project is the result of a partnership between the Government of Ethiopia and a consortium of international companies: Cambridge Industries Limited (Singapore), China National Electric Engineering and Ramboll, a Danish engineering firm.  The consortium was established to design, construct and in some cases own waste-to-energy facilities customized for Sub-Saharan Africa. Reppie is the first of what the consortium hopes will be a series of such facilities in major cities across the region.



It is supposed to take 1,400 tons of waste daily which figure comes up to about 80% of refuse generated by Addis Ababa. It will go on to supply the capital with 30% household electricity needs whiles conforming to global standards on air emissions. In waste-to-energy incineration plants, rubbish is burned in a combustion chamber. The resulting heat is used to boil water until it turns to steam, which drives a turbine generator that produces electricity.

Ethiopian Prime Minister Dr. Abiy Ahmed
It was built by Cambridge Industries Limited (CIL), British & Island with Chinese partner contractors. It also involved Danish consultants Ramboll. It was fully funded by government with the overall cost put at 2.6 billion birr.  In 2017, the United Nations environment programme website reported that the project was to be launched in early 2018.
The Koshe dump site which had been transformed to the Reppie project served Addis Ababa for about 50 years made news headlines in March this year after a landslide at the premises killed about 114 people – residents and scavengers – according to government records. In the wake of the incident, the government planned relocation for persons who lived on the large area said to be the size of 36 football pitches. They moved to establish the plant with the broader objective of transforming the site and Addis Ababa's approach to dealing with waste.
Addis Ababa like any booming African city has its fair share of garbage headache. The Addis Standard in holistic analysis of the city highlighted that plight in an article titled: 'Addis Abeba: a city struggling under the weight of its failures triggers fresh minefield.' A portion on challenges relative to garbage read: "Turn to another topic. A city with one of the highest population densities in Africa (an estimated 5,165 persons per square kilometer), is imploding from the pressure of urban migration, which is manifested in housing crisis that was characterized as "70% informal" by the UN-HABITAT. Unemployment rate stands at 21.2%.