Sir Emeka Offor, the chairman of Starcrest Nigeria Energy Limited was upbeat on the strategic acquisition
Starcrest Nigeria Energy Limited ("Starcrest") and Eland Oil & Gas Limited ("Eland") are delighted to announce that Elcrest Exploration and Production Nigeria Limited ("Elcrest"), a joint venture company of the Partners, has bid successfully for a 45% interest in licence OML 40, located in the Niger Delta.
Following a competitive and well publicised auction process conducted jointly by Shell Petroleum Development Company of Nigeria Limited, Total E&P Nigeria Limited and Nigerian Agip Oil Company Limited (together "the Sellers"), Elcrest,represented by Sir Emeka Offor, has today concluded a Sale & Purchase Agreement with the Sellers on behalf of the Partners.
Commenting on the acquisition, the chairman of Starcrest Nigeria Energy Limited, Sir Emeka Offor, said 'this acquisition is a cardinal part of the strategic growth plan of Chrome Group, and it is a glimpse of the new-look Chrome Group, as we march towards becoming the leading indigenous oil and gas company in sub-Saharan Africa. As a Nigerian company with a global perspective, Chrome Group is now more than ever before, better positioned to champion the local content cause, and we believe that the time has come for indigenous oil and gas companies, to take strategic positions in the oil and gas business in Nigeria.'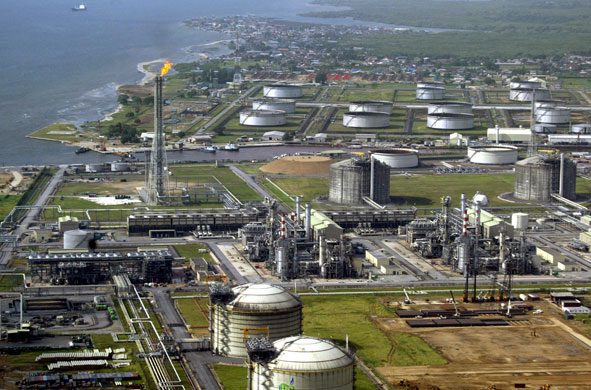 The transaction is now subject to Government of Nigeria approval and final completion.
 Subject to that approval and completion, Elcrest, with the support of Starcrest and Eland, plans to work closely with the local communities in OML 40 to ensure that all stakeholders benefit from the successful re-development of the resources.
On completion, the 45% interest in OML 40 will be held by Elcrest, a joint venture company of the Partners, in turn held 55% by Starcrest and 45% by Eland. The Nigerian National Petroleum Corporation holds the remaining 55% interest in OML 40.
The Board and Management of Elcrest are all oil & gas professionals with many years of successfully operating oil and gas projects in Nigeria.
Elcrest is fully funded and supported by Eland and Starcrest. Eland is fully funded by a broad range of international blue chip institutional investors, principally from the UK and USA.
 About Starcrest Nigeria Energy Limited ("Starcrest")
Starcrest, a leading indigenous exploration and production company is a subsidiary of Chrome Group, one of Nigeria's leading indigenous conglomerates with subsidiaries operating in oil and gas exploration and production, oil and gas servicing, engineering, insurance, logistics and power industries.
 About Eland Oil & Gas ("Eland")
 Eland is a private E&P company with a particular focus on Nigeria with offices in Aberdeen, Sharjah and Abuja, Nigeria. Eland's management team have extensive industry experience in the finding, development and exportation of hydrocarbons with previous success in Nigeria and other locations in West Africa.
Val Oji, Group Chief Communications Officer Chrome Group is the signatory to the above Press Release