Dr. Ngozi Okonjo-Iweala said that the top job will go to United States candidate, Dr. Kim but Africa has proven that she 'can contest this thing'
During the Nigeria's budget proceedings this Monday morning, Dr. Ngozi Okonjo-Iweala made the prediction that the United States man, Dr. Tim Yong Kim will land the top job and lead World Bank. But she quickly added that the victory would not base on merit.
Her words, "You know this thing is not really being decided on merit."
Astute global observers and analysts have never doubt that the outcome will be different. United States owns the process and since the formation of World Bank after the end of Second World War, it has never had a non-American citizen as the president.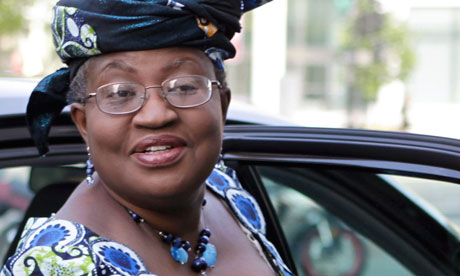 (Antoine Antoniol/BLOOMBERG)
Okonjo-Iweala and Columbia's Jose Antonio Ocampo could be said to be the first to challenge an American nominated candidate for World Bank presidency.  Ocampo eventually bowed-out from the race to enable Okonjo-Iweala redouble her momentum. But the reality remains that United States is the juggernaut that determines how the process will go and who will get the top job.  And the presidents of World Bank position have always go to an American. A different outcome cannot be envisaged at this time and certain things never change.
"So we have won a big victory. Who gets to run the World Bank – we have shown we can contest this thing and Africa can produce people capable of running the entire architecture, will never ever be the same again". That's how Nigeria's Okonjo-Iweala surmised the process, thus giving credence to the effort that Nigeria and Africa had made in the uphill struggle to gain the top leadership at World Bank.
Okonjo-Iweala is making an intelligent prediction but by the end of the day, World Bank board of directors will name the president and that may confirmed her prediction.