In the course of a single interview on CNN last week, South Africa's last apartheid-era president, the 76-year-old F.W. de Klerk, may have shattered his legacy as one of the men who set the country on the path to democracy.
In a 10-minute conversation with Christiane Amanpour, De Klerk provided a callous defense of the very apartheid system he once helped dismantle. He refused to agree with Amanpour that apartheid was "morally repugnant." Instead he insisted it had been designed simply to ensure that different groups could live peacefully apart and then had happened to fail in practice. Blacks were not disenfranchised back then, he said. They got to vote in their "homeland reserves," and the central government looked after them well.
"If only the developed world would put so much money into Africa, which is struggling with poverty, as we poured into those homelands," De Klerk ventured. "How many universities were built? How many schools?"
So much for that Nobel Peace Prize he shared with Nelson Mandela in 1993. Even before the CNN interview, De Klerk's legacy was somewhat fragile. Many South Africans, including historians, have wondered whether his role in the transition from apartheid to democracy was really motivated by a sincere commitment to justice and reconciliation. Some believe he was just opportunistic: sensing that apartheid had become politically and economically untenable, he thought it would be strategically savvy to relinquish control then, retire and enjoy the wealth that white South Africans like him had accumulated through the exploitation of the black majority.
De Klerk's attempt last week to justify apartheid as, in effect, a morally neutral project that somehow went awry is breathtakingly callous. Apartheid was intrinsically morally odious. It was premised on a white supremacist ideology and the conviction that blacks, being inferior to whites and subhuman, did not deserve to be politically or economically integrated in white-minority-ruled South Africa.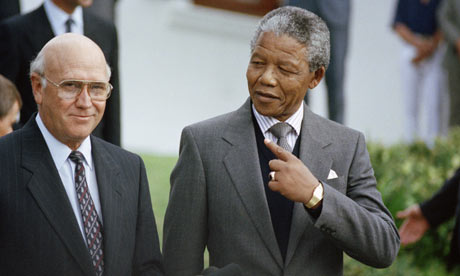 FW de Klerk and Nelson Mandela at a photocall on Wednesday, May 2, 1990 in Cape Town. Photograph: Denis Farrell/Associated Press
De Klerk's outrageous views don't just shatter his legacy; they also undermine ongoing national reconciliation efforts. South Africans are still learning to rid themselves of racial prejudice and racial mistrust. De Klerk's remarks will feed latent feelings among many blacks that whites are still unable to acknowledge past injustices.
The upshot of this disastrous interview is clear: you can only mask your true political colors for so long. When he helped end apartheid, De Klerk may have been politically shrewd, but he was not morally upstanding.
Eusebius McKaiser is a political analyst at Wits University in Johannesburg, South Africa.