Ghana President John Dramani Mahama will be officially nominated as the ruling National Democratic Congress' presidential candidate Thursday in preparation for the December elections, according to a leading member of the NDC.
The NDC's national delegate congress opens Thursday at the Baba Yara Stadium, in the Ashanti region's capital, Kumasi.
Baba Jamal, who is also deputy information minister, said the NDC will also officially launch its campaign for the presidential, parliamentary and local elections.
"We are going to have the national delegate congress, which is the highest decision making body where we will vote to endorse the president or do otherwise," Jamal said. "And then in the afternoon, we are going to have a campaign launch, where we will launch officially the beginning of our campaign as a party."
Jamal said the party's main objective is to improve the lives of Ghanaians.
"We are going to further the better Ghana agenda," he said. "We are going to promote the achievement of the better Ghana agenda and take it even to a higher level.
"We are going to make Ghanaians the center of our policies. We are going to ensure that our work, as it has always been, is about advancing [and] investing in people, creating jobs and ensuring that we have justice for all in this country."
Opposition groups say the ruling party has failed to keep its promises. They said the NDC has yet to offer solutions that address the economic challenges the country faces. The opposition parties have also called on voters not to return the NDC to power for the next four years.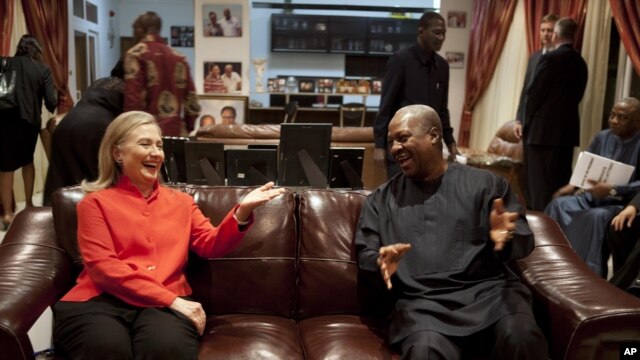 United States Sec. Hillary Clinton and President John Mahama
But, Jamal disagrees with that assessment, noting that the ruling party has built more than 1,700 schools and roads, upgraded hospitals and created jobs.
"If all these things are happening and people don't see it, then it is people who are deliberately refusing to see it," he said. "But, those who have seen it have seen what is happening and I think that they will continue to reward [us] as a party that is bettering the lots of Ghanaians."
Jamal also said the NDC will work with other political parties to ensure the December voting takes place without violence, intimidation or harassment.
"We are the party that had a presidential candidate who by his nature and character was named Asomdwehene [late President John Atta Mills] or the man of peace," he said. "We also have a candidate that by his character, everybody can see clearly that he abhors violence and he is not in for that. So, our party has always stood for peace."
source: Voice of America