Nigeria is steadily but gradually accumulating foreign debts
Nigeria is leveraging her good credit standing for massive and staggering borrowings.  The dizzying amount of money that numbers in billions of dollars will be flowing into Nigeria's coffers. Nigerian government has confirmed that it secured a $900 million loan from China after she signed the loan agreement with the Export-Import Bank of China. The China loan was part of the larger borrowing package of $1.54 billion approved by Nigerian Senate. The remainder of the borrowings of $152.2 million and $170 million will be coming from World Bank and French Development Agency respectively. Then comes the $500 million Euro-bond expected to be traded on the EU capital market and the borrowing continues.
The $500 million Eurobond was slated to go to European capital market December 2010, but according to Dr. Abraham Nwankwo, Director-General of the Debt Management Office (DMO), "Given the rumblings in the euro zone over the past few weeks ... we have considered it important to watch carefully over the next couple of weeks and as soon as possible make the offer."
"The $500 million Eurobond is the commercial portion of the $3.702 billion foreign loans from different sources, as part of the $5.3 billion peg placed on external borrowing by the National Assembly, out of which approval had earlier being granted for $2.4 billion. The loan to be secured on concessionary terms and with a repayment period of between 20 and 40 years by the Abuja would also have a moratorium of seven to 10 years and is for use to address major infrastructure gaps across the country."
In October 2010, Reuters reported that Nigeria auctioned 123 billion naira in sovereign bonds: "Nigeria sold 122.93 billion naira ($820 million) in 20-year, 7-year and 3-year sovereign bonds at its tenth debt auction of the year, the Debt Management Office (DMO) said on Thursday. Sub-Saharan Africa's number 2 economy sold 58.76 billion naira in the 20-year, 37.50 billion naira in the 7-year and 26.67 billion naira in the 3-year instruments at Wednesday's auction. All the instruments are re-openings of previous issues, the debt office said in a statement."
According to Nigerian government, the borrowed money will be utilized for revitalizing and upgrading Nigerian dilapidated infrastructures.  Minister of Finance Olusegun Aganga, confirmed during a press conference that $900 million loan from China will be utilized for the "construction of a $500-million railway linking the capital to the northern city of Kaduna and a $400-million public security communications project."
What's going on?
Even with Nigerian economic growth of 7.8 percent in 2010, Nigerian credit rating was downgraded to BB-, by an international ratings agency, Fitch Ratings. The rating of BB-minus was three levels beneath investment grade because Nigeria continued to withdraw excessively from its crude account. But even with the excessive withdrawal, Nigeria's appetite for borrowing was not satiated.
Dr. Abraham Nwankwo, Director-General  (DMO)
Nigeria with her bold and can-do attitude of borrowing begs for some explanations.  Nigeria has a documented history of mismanagement and corruption. It might be easy to borrow massively and piled the debt on poor Nigerians in the name of fixing and providing infrastructures. But it may not be easy to pay back the loans. Where is the assurance that all these funds will be efficiently allocated and used appropriately for the planned projects?
The Finance Minister Olusegun Aganga and DMO chief, Arthur Nwankwo were quick to say that Nigeria's debt-to-GDP ratio that stood at 13.8 percent has not exceeded the international permissible benchmark for third world countries.
Nwankwo, his words, "The international benchmark requires that countries in our group do not exceed a debt to GDP ratio of 45 per cent, which means that we are at a very comfortable level… After exiting the Paris Club, we have maintained prudence and restraint in ensuring we do not go back to the dark days, "we are under pressure to mobilize funds for infrastructure deficit." While it was reported in the news that Aganga said, "Nigeria's debt to GDP ratio which currently stands at 16.6 percent is low compared to the internationally acceptable benchmark of 40 percent for developing countries."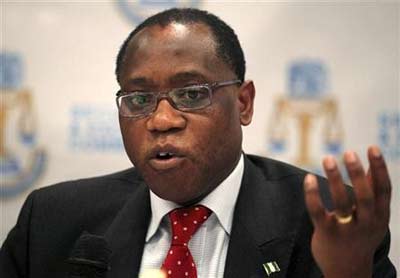 Minister of Finance, Olusegun Olutoyin Aganga
The so-called international acceptable benchmark needs more explanation to Nigerian people, while one person is saying 40 percent, another is saying 45 percent. Apart from the numeric inconsistencies, the international body that set the standard does not have the final say on what Nigeria will do to protect herself from financial crisis. The Euro zone has their deficits and debts ratios-to-GDP benchmarks. Nigerians and Africans are busy quoting some international standard without making any initiative to come up with their standards and benchmarks. When Nigeria falls again into higher debt trap and inflation, there will be no international body to bail Nigeria out.
The Nigerian financial managers and leaders especially the Minister Finance and DMO should take some responsibilities and stop quoting the so-called international standard. Nigerians would like to hear those in authorities say that the borrowed money will be properly utilized with accountability and probity.
In spite of the so-called international permissible benchmark, the increasing borrowing by the government is giving a serious concern to so many Nigerians. The elite and ruling class might not lose sleepless nights but the average Nigerians are worried that borrowed money might not be utilized for the proposed projects. And their concerns are rooted in history of mismanagement of erstwhile loans of yesteryears.
When these resources are prudently invested and the projects intended are efficiently completed especially the electricity project, it will enable Nigerian economic growth to amplify and highly appreciated. But when resources and funds are mismanaged the Nigerian people will be laden with a heavy yoke and sadden with massive debt.
Nigerians do not want history to repeat itself, which is going back to the gloomy days of payment of monstrous foreign debts. When Nigeria settled her debts from Paris and London clubs, her citizens cheered on the development. Nigerians are not ready for IMF austerity measures and servicing of unending foreign loans with its unending arrears and malleable interest rates.