Nigerian Blasts Mar Pope's Christmas Peace Appeal
Pope Benedict XVI's Christmas pleas for peace around the world were brutally ignored in Nigeria, where an explosion Sunday claimed by Muslim extremists ripped through a Catholic church during Mass. Authorities say at least 25 people were killed by the explosion at the St. Theresa Catholic Church in Madalla, near the Nigerian capital, Abuja. Boko Haram, a radical Muslim sect waging a sectarian fight claimed the attack and another bombing near a church in the restive city of Jos.
The locations of the bomb blasts in Nigeria.
A crater left by the blast on Christmas Day AJE
A victim is tended to by medics in an ambulance following a blast at a Catholic church near Nigeria's capital Abuja, December 25, 2011.  credit VOA
Police bomb experts gather around the car used in the explosion at St. Theresa Catholic Church at Madalla, Suleja, near the capital Abuja in north central Nigeria, December 25, 2011. Islamist militant group Boko Haram said it planted bombs that exploded on Christmas Day at churches in Nigeria, one of which killed at least 27 people on the outskirts of the capital. AP
A car destroyed by the explosion in Madalla, near Abuja AJE
The St Theresa Church where the attack killed at least 25. AJE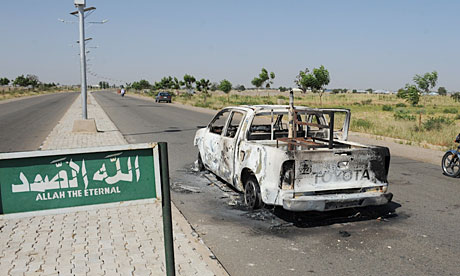 A burnt police truck in north-eastern Nigeria, next to a road sign reading 'Allah the Eternal'. It was destroyed by a bomb during a series of attacks in November claimed by Islamist group Boko Haram. Photograph: Pius Utomi Ekpei/AFP/Getty Images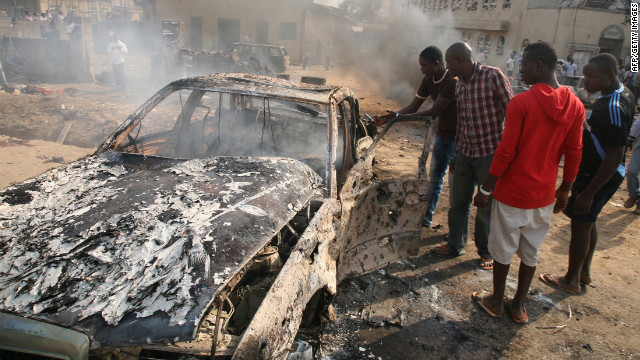 Pope Benedict XVI kneels in prayer as he celebrates Christmas Mass in St. Peter's Basilica at the Vatican, Saturday, Dec. 24, 2011.  AP
The assaults come a year after a series of Christmas Eve bombings in Jos claimed by the militants left at least 32 dead and 74 wounded.Benedict didn't refer explicitly to the bombings in his Christmas Day survey of the world's trouble spots, delivered from the sun-drenched loggia of St. Peter's Basilica. But the Vatican issued a statement denouncing them as a sign of "cruelty and absurd, blind hatred" that shows no respect for human life.
Elsewhere, Christians braved lashing rains and wind to celebrate Christmas Mass in Jesus' traditional birthplace on Bethlehem's Manger Square. St. Catherine's Church is attached to the smaller Church of the Nativity, which is built over a grotto where the faithful believe Jesus was born.
"We wanted to be part of the action," said Don Moore, 41, a psychology professor from Berkeley, Calif., who came to Bethlehem with his family. "This is the place, this is where it all started. It doesn't get any more special than that."
The holy town of Bethlehem is no stranger to violence. Like the rest of the West Bank, it fell on hard times after the Palestinian uprising against Israeli occupation broke out in late 2000. Although civil affairs in the biblical town on Jerusalem's southeastern outskirts are run by Palestinian authorities, security control remains in the hands of Israel, which built a barrier around three sides of the town to keep Palestinian attackers out.
Palestinians say the barrier has badly hurt the local economy, which depends heavily on tourism, by severely restricting movement in and out of the town.
But as the violence has subsided, tourists have returned in large numbers. On Saturday, turnout for Christmas Eve festivities in Bethlehem was at its highest since the uprising began driving tourists away. An estimated 100,000 visitors streamed into Manger Square on Christmas Eve, up from 70,000 the previous year, according to the Israeli military's count.
The Holy Land and the entire Mideast were very much on Benedict's mind as he delivered his traditional "Urbi et Orbi" speech (Latin for "to the city and to the world").
Speaking just a few hours after celebrating a late-night Christmas Eve Mass, Benedict said he prayed that the birth of Jesus, which Christmas celebrates, would send a message to all who need to be saved from hardships.
He said he prayed that God would help the Israelis and the Palestinians resume peace talks and "bring an end to the violence in Syria, where so much blood has already been shed."  He called for international assistance for refugees from the Horn of Africa and flood victims in Thailand, among others, and urged greater political dialogue in Myanmar, and stability in Iraq, Afghanistan and Africa's Great Lakes region, which includes Congo, Uganda and Rwanda.